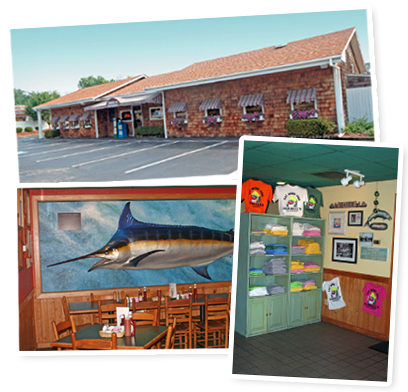 Darrell's Outer Banks Restaurant History
Name: Darrell's Seafood Restaurant
Location: 521 US Highway 64 Manteo, Outer Banks NC
Phone: 252.473.5366
Fax: 252.473.3549
Email: darrellsseafood@aol.com

From a modest beginning in 1960, Darrell's Seafood Restaurant has emerged as one of the more popular facilities with a growing need and dependable source of palate-pleasers. Darrell and Dora Daniels founded the business as Polar Bear Drive-In, an accessible place for a growing and consuming satisfied public. Among favorites was the home-made barbecue.

In 1972 son Allen and wife Lorna joined the business. With an expanded facility and menu, popularity grew steadily with both Outer Banks locals and tourists.

Through several renovations and facility upgrades, Darrell's today is a popular spot on heavily-traveled Hwy. 64 in Manteo, a mere half mile from the modern multi-lane bridge spanning the Croatan Sound. It is along the route to The Lost Colony, Elizabethan Gardens, Roanoke Island Festival Park, the North Carolina Aquarium and Downtown Manteo Waterfront Shopping district.

Allen and Lorna, joined by son Tanner, play a big role in operating this successful business, the second oldest restaurant on the Outer Banks.

Enjoy your stay on the Outer Banks and please come again.

Thank you from everyone at Darrell's Seafood Restaurant!